---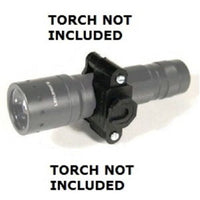 Genuine Peter Jones RSTUD KF Klick Fast Torch holder. 
The Peter Jones Design Department has produced a Klick Fast Stud for torch mounting. This stud brings with it all the benefits of our Klick Fast system, allowing a torch to be attached to a garment such as a tactical vest.
The stud is adjustable to fit torches from 20 to 30mm in diameter.