---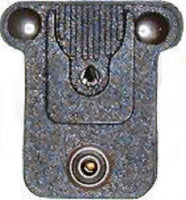 This is the original Klick Fast RSM TETRA Airwave Dock, it clips onto the radio/microphone loop on your Uniform Shirt / Stab Vest / Tactical Vest or Hi-Vis Jacket.
The Klick Fast dock is securely fixed to the leather uniform fixing and is secured to your uniform loop/tag with a heavy duty pop stud.
The Klick Fast system itself is very secure, to remove your Airwave terminal from the Klick Fast dock you simply rotate your radio through 180 degrees (so it is upside down) any push it upwards. This is so that you cannot loose your radio because of it jumping out of the dock whilst you are running or carrying out whatever your duties involve. The weakest point will be your uniform!