---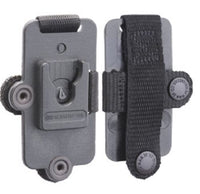 Genuine Peter Jones KlickFast Klick Fast DOCKMV MOLLE garment dock.
Brand new to the range, this is a KlickFast MOLLE (Modular Lightweight Load-carrying Equipment) dock 
It provides a secure mounting point for your Airwave / torch Etc that has a KlickFast stud via the two webbing straps on the read of the dock, one vertical and one horizontal.
Physically bigger than an RSM Klick Fast dock measuring 4" (100mm) x 2 1/4" (60mm) so should provide a more stable platform and the webbing straps on the rear will enable fitment to a multitude of locations.
Vertical strap provides 3" (75mm) and horizontal strap provides 1 1/4" mounting areas.