---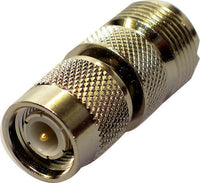 This is a PL259 - TNC Aerial adaptor for hand held transceivers such as the Maycom AH27, Eurosonic KH-104, and the Realistic / Radioshack variants.
Also for WLAN applications.
This will enable the removal of the 'rubber duck' type antenna fitted to these handhelds and an external aerial to be fitted via a PL259 plug. The worlds your oyster then - you can connect a mobile aerial fitted to a magmount on your car or even a full size home base aerial !